This update was sent to Transit Forward Philadelphia (TFP) supporters via our newsletter. Want to sign up and receive these updates? Get involved!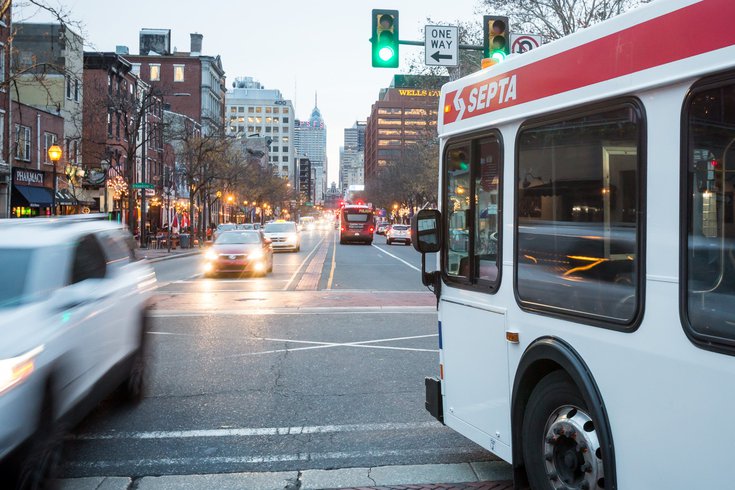 A Step Towards Better Buses in Philly
PennDOT and SEPTA are taking one of Philadelphia's busiest bus corridors and giving it a transit-friendly overhaul. Bus-only lanes are coming to Center City along JFK Boulevard and Market Street, and they might be here to stay. The bus lanes will extend from 15th to 20th street as part of an 18-month pilot program that is intended to prioritize buses over cars in downtown Philadelphia. The right-most travel lane will be reserved for buses, but cars will still be allowed to use the lanes to access curb parking and take right turns. During construction, Market and JFK will still be open to cars and cyclists, allowing people to continue their normal routines. This project is not the only change coming to SEPTA's bus routes. SEPTA is planning on redesigning its entire network, and Transit Forward Philadelphia is conducting a survey of bus riders to ensure the new network makes riding the bus a better experience for everyone.
The bus-only lanes will improve bus speeds and reliability, reducing congestion in Center City while making trips quicker and easier for bus riders. These lanes will make traffic more manageable for everyone, and improve safety and air quality in Philadelphia's biggest commercial center. This initiative will make transportation in Philadelphia more accessible, more sustainable, and more efficient. Transit Forward Philadelphia is excited and encouraged by this new pilot program.
These lanes do have a few shortcomings. Cars will be able to use the lanes as long as they are parking or making right turns, which still allows for the possibility of buses getting stuck in traffic. Signal priority for buses, which SEPTA and PennDOT have not mentioned as part of the program, should be the next step of this pilot. Signal priority for buses would reduce cars crossing into the bus lane while making a right turn, giving bus riders a faster, smoother ride.
The newly implemented bus lanes could expand accessibility by extending to 30th Street Station, one of the city's biggest transfer centers and transit hubs. An extension to 30th Street Station would benefit six different bus routes that connect Northwest Philadelphia and King of Prussia to Center City. 
A spokesperson for the Mayor's Office explained their reasoning for not extending the bus only lane is because oTIS will only be converting segments of Market Street and JFK Boulevard that are already one-way streets. A broader vision for this pilot program would see riders utilizing the bus and relying on the region's robust bus network. Converting Market Street and JFK Boulevard to transit malls free of cars during peak hours would amplify the benefits of this project. Seattle, Toronto, and New York City have all tried this and found huge success.
Although this pilot program needs improvement, it is still an important first step to prioritize public transportation in Philadelphia and make our city a more sustainable and accessible place to live. It is exciting to see oTIS and SEPTA taking the necessary steps to fulfill their commitments in the City Transit Plan to improve transportation for everyone in the region. Another step SEPTA is taking is a complete redesign of their bus network, which is why Transit Forward Philadelphia is conducting a bus rider survey to ensure that the new network is designed with the needs of everyone in mind.
To learn more about our survey and what we're doing to ensure every rider has a voice during SEPTA's Bus Revolution project, check out our Better Access Better Service Better Buses Campaign.
Do you like this post?